This is just for fun.
This is a new design from the golf apparel company Birth.Golf.Death — who have some of the funniest, edgiest golf stuff around. (Their tagline is "Golf now. Die later.")
They posted this on their Facebook page and it just reminded me of when TJ cut down a couple of clubs for Matt when he was just a toddler. Matt had a toy set of clubs (being first-born and an unofficial mascot of the University of Georgia Bulldogs golf team) when he was a year old.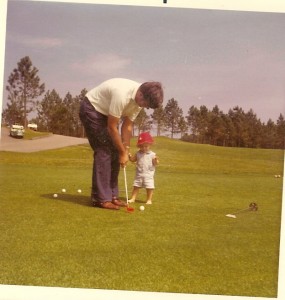 There they are at Callaway Gardens in Georgia.
After we moved back home to Rochester post-school, daddy cut down those real clubs and Matt took real, two-year-old swings in the backyard. I believe he caught his grandfather squarely in the shins.
Advice: It's perfectly OK to dress your progeny in golf outfits and put clubs in their hands at an early age. They may or may not think it's fun and actually play one day. (Matt did.) Just stand clear. Two-year-olds have a lot more swing velocity than you think.