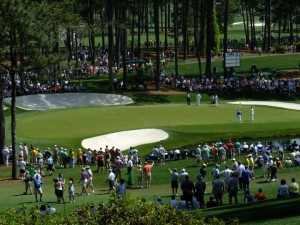 The morning was misty, threatening rain, as I drove by a scene out of my former life. My route took me past Locust Hill Country Club and the traffic slowed to a semi-crawl along Jefferson Road. The tents were up, the tournament trailers and trucks parked; signs announced parking at makeshift lots on neighbors' yards. Sheriffs' cars flashed lights to slow the traffic driving right through the middle of early-bird spectators heading for the course. This week's Wegmans LPGA Championship had snuck up on me.
I stole a glance at the course parking lot – the prime, privileged area where only players, sponsors, media and officials are allowed – and flashed back to a time when I was among the elite at courses all over the country…
It started like this: I had never seen such tiny grass. I was 18 and it was the first time in my life I'd ever been on a golf course.
I was there with my boyfriend, Terry, while he practiced at his home course. We were at the beginning of being wildly in love. He was well into his amateur schedule of golf tournaments before we both headed for college.
He got a kick out of me loving that tiny grass. I took my shoes off and felt the velvety green on my toes. The sun was setting. He kissed me between practice putts.
That began my time of learning to follow.
The next summer, I followed him at Locust Hill as he won the NY State Amateur. The next season, we married – during a prestigious amateur tournament. The morning after our wedding, I followed him for 36 holes. And kept following for ten years — through heat, wind, rain and cold, from the east coast to Florida and Hawaii.
Just to be clear: I don't play golf. I never have and most likely never will. But I've lived golf. Being a PGA Tour wife gave me a backstage pass in a world that's part sporting event and festival. I understand golf. I've written about personalities, golf courses, or the best way to follow at a tournament.
Why would I? Golf's given me gifts – the people I've met, the places I've been, the things I've gotten to do – like use a huge CBS TV camera on a 50 foot tower during a broadcast rehearsal at Hilton Head. Much of what I do and have been able to achieve I owe to my life on, around, and after the Tour.
At a standstill on the road, by the LPGA, that former life gave me a secret wave. So many stories, characters and lessons. That life is gone now. But the gifts… oh, so worth keeping.
This essay appeared in the Democrat & Chronicle' s Opinion section on June 9, 2012 during the Wegmans LPGA Championship at Locust Hill Country Club in Rochester, N. Y.
Photo credit: Courtesy of Ryan Ballangee